If your photos or videos do not fall within these guidelines, please remove them.
Please note: These guidelines are for photos/videos uploaded directly into the Photo and/or Video
sections
of WildEarth Ning.
If you have questions in reference to photos and what area that WildEarth broadcasts in, please contact Aquila@wildearth.tv, Karen-inVA@wildearth.tv or Valorie@wildearth.tv.
Guidelines
Photos:
Please only upload photos you have taken of WildEarth.TV content. Or photographs YOU have taken of wildlife in any of the areas that WE broadcast from.
Annotate what area each photo was taken in if not Wildearth content or they may be deleted.
Any photos uploaded after the publishing of these guidelines,
November 22, 2008
, that are not WildEarth content or wildlife photos taken by you in the areas that WE broadcast from, will be deleted immediately without notification.
Videos:
ONLY
videos containing
WildEarth.TV content
are allowed to be uploaded. They must be your own creations. Any videos other than WildEarth.TV content and not of your own creation will be deleted without notification. The principle here is to 'mash-up' the WEvideo that are also available at
http://www.wildearth.tv/wearchive
for your use.
These guidelines are in place to prevent copyright infringement of others, and to make for easier browsing of the WildEarth.TV sightings as well as to ensure the storage/bandwidth limits of this social network are not exceeded.
***Very Important Note*** Due to photos and videos on the Ning Site going out through RSS feeds and other applications advertising WildEarth, only WildEarth content should be uploaded to Ning. Pets, family, vacation, personal photos/videos, etc. should not be uploaded for this reason.
------------------------------------
Notice: "Add an Album" Options
To avoid any confusion, there are two features/options for members adding a Photo Album. One option for your photos. The other option for linking out to other members' photos. Similar to a Favorites.
1.
A member creates an album consisting only of their WildEarth Content photos.
Choose from:
*
My Photos
Example:
2
. A member creates an album consisting of any WildEarth Content photos shared on the WildEarth Ning Network. This option allows a member to create a Favorites type album with each thumbnail within the album leading back to the original page for the uploaded photo. All credits for the photos go directly to the original poster of the photos.
Choose from:
*
Everyone's Photos
Example:
------------------------------------
***
Below are instructions on
how to insert or embed your photos, slideshows, videos
that are not WildEarth content onto your "My Page":
How to use the Text Box areas on your "My Page" per the main Ning site:
What is a text box? What can I put in my text box?
A text box is a box to which you can add a variety of content. It's just another way to make a page your own! Simply click the "Edit" button in the top right corner of the text box to get started.
Network members can add the following to text boxes on their profile page:
Text
HTML
Pictures
Widgets
How do I add "embed" code to a text box?
Most widget providers and video sites will give you "embed" code for their widgets and videos. Here's how you add it to a text box.
1. Sign into the network.
2. Locate the text box you would like to add the code to. Click "Edit" in the upper right corner.
3. Copy and past the "embed" code into the text box and click "Save."
You can also embed any network slideshow, video or music player widget into a text box.
How do I put photos into the text box?
1. Sign into the network.
2. Locate the text box you would like to add the photo to. Click "Edit" in the upper right corner.
3. Click the "Add an Image" icon.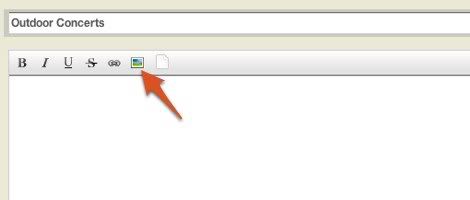 4. Insert an image that's already online by pasting the URL under "insert an existing image."
5. Click "Add."
How do I add a clickable link to my blog post? This should also work for the My Page Text Box.
To make text in your blog post into a clickable link, highlight the text you want to be linked and click the "Insert a Link" icon in the toolbar. This button looks like a chain link. In the box that pops up, type the URL you want the text to link to. Once you save your text box or blog post, anyone can use the link.